A lot has happened in the last couple of weeks and therefore i haven't had the time to write this outline before now!
On 3. of May I attended The Cryos Symposium 2019.
This was the first time I had to speak to a big crowd like that. That it was also in English and something very personal did not make it less nerve-wracking..
But what an amazing experience! After the first minute or so the nerves disappeared and I could just tell my story.
I was given the opportunity to talk to a lot of incredible people. People who have worked in the fertility industry for many years, but who rarely see the outcome of their work as adults.
It led to a lot of exciting talk and acquaintances.
A few days before the symposium, I was contacted by a danish journalist who wanted to know what I was going to talk about at the symposium.
On Friday, BT published the article about me being a donor child.
The entire article can be read – HERE
Unfortunately it is in danish, sorry.

I also wrote a post for the Cryos blog – Read it Here!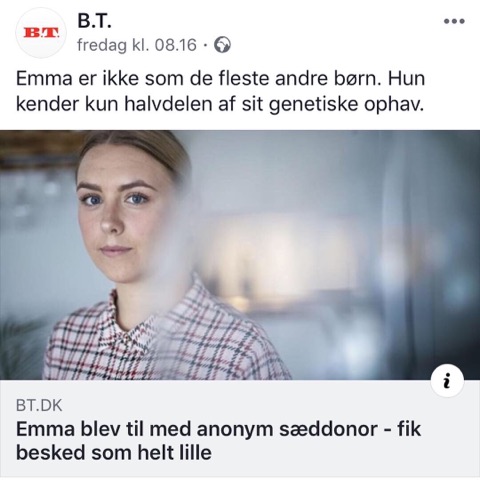 Friday the 3. of May 2019 ended up being incredibly eventful.
An important day for me where I was given the opportunity to share my story and spread my message. The message that there are also happy and satisfied donor children out there – it does not always have to be a pity for us.
I am still overwhelmed by people's gratitude and positivity when I tell my story. Thank you for that!

A few days after I was fortunate to meet and speake to Hanna, who runs the blog Solomamapluseins. But hopefully I can tell you more about this later!


xx